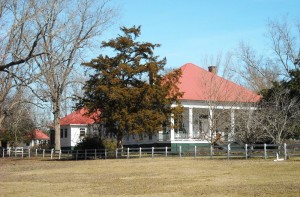 This home, known as "River Bluff House," was build around 1847 for William King Beck, a nephew of William Rufus King, Vice-President of the United States.  He has migrated to Wilcox County around 1820 with his three brothers from North Carolina.  Like many men of the Old South, Beck combined his law practice with cotton planting and achieved considerable local prominence.  Mr. Beck was apparently married twice, with his second wife being Anne Eliza Smith, daughter of a neighboring planter, Duncan C. Smith.  This was their principal residence until they moved to Camden.
River Bluff House is a large Greek Revival Cottage with a recessed porch supported by octagonal columns.  The columns and the "eared" architraves framing the interior window and door openings strongly link this building to Alexander Bragg as the builder.  According to local history, J. D. Bryant, who owned the home in the late 1800's altered the hipped roofline from the original form.  This roof, extending over the veranda, was characteristic of a number of mid-19th century plantation houses that once existed across south central Alabama.
The home was restored by Don Bell in the early 1990's and then altered by Mr. & Mrs. Jim Bridges in the mid 1990's.  The Douglas R. Talbot family of New Orleans, Louisiana are the current owners.
This home was added to the National Register of Historic Places on May 21, 1993.  It is located beside Highway 28 near the Canton Bend community in Wilcox County (GPs coordinates N32.045417,W87.335306).