Bethea-Strother-Stewart Home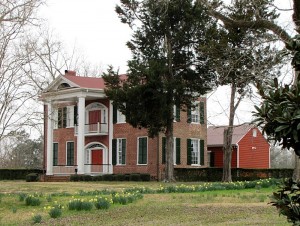 This classic example of modified Georgian architecture is located in the Canton Bend area west of Camden on Highway 28 (GPS coordinates N32.053917,W87.349639). The federal style house is the only brick antebellum home in Wilcox County and is registered on the National Historic Register. Tristin Bethea, a native South Carolinian, built this home around 1832. He had moved to Wilcox County in the 1820′s and established a law practice first at Canton and later at Barboursville (renamed Camden in 1841). He married Eugenia V. Bethea, in 1832.
When he moved to Mobile in 1850 the home was acquired by George O. Miller on October 7, 1850. He paid $2,800 for 157 acres of land, the home, and other improvements. In later years the property came into possession of Joseph Eugene Strother, a nephew of Eugenia Bethea. Ownership remained in the Strother family until the home and some acreage was sold to Cliff Redenour and Ron Smith in 1987. They performed much of the home restoration that is visible today. In June of 1995, Mr. and Mrs. Al Blanton purchased the property and continued the restoration process and added period dependencies on the property. This home is also known as "Pleasant Ridge".
This is a private residence – drive by only.