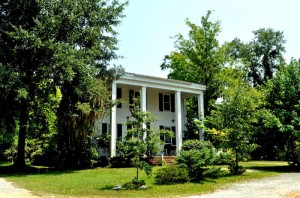 This historic antebellum structure is located a couple of miles east of Camden on Highway 10 (GPS coordinates N31.990028,W87.258139).  It is currently owned by Betty Kennedy who operates Gaines Ridge Dinner Club on the premises.  This house was built in 1837 by Ebenezer Hearn, a Methodist Minister in the area.  The "I" house, with its hall and parlor plan, retains the original Federal style interior woodwork.  The home was acquired in 1898 by the family of the current owner and was a family residence until 1985 when it became Gaines Ridge Dinner Club.
Gaines Ridge also has its share of ghost stories. It is included on the Alabama's Ghost Trail. Click here to view a video where Mrs. Betty shares one ghost story.
Gaines Ridge is located beside Highway 10 approximately two miles east of Camden (GPS coordinates N31.990028,W87.258139).