Horn-Jones-Sadler Law Office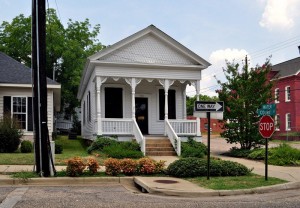 The Horn-Jones-Sadler Law Office law office was built around 1846. It is a one-story, shotgun structure with a gabled end portico. The building contains Victorian alterations which include Eastlake colonnettes and segmental–arched door and windows. This building is included in Camden's Wilcox County Courthouse Historic District listed on the National Register of Historic Places. During the late 1800s, this was the law office of General Richard C. Jones. In addition to practicing law, Jones served as a brigadier general in the State Militia, a member of the State Senate, President of the University of Alabama (1890-1897), and a member of the 1901 Alabama Constitutional Convention.
This building is located downtown Camden, AL across the street from the old Wilcox County Courthouse at the intersection of Court Street and Water Street (GPs coordinates N31.991689,W87.288957).
The below photo is from the 1930's.