Canton Bend United Methodist Church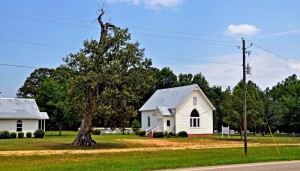 This small frame building which houses the Canton Bend Methodist Church, was constructed by church members during the early 1900's.  It is situated adjacent to the old Canton Cemetery, within site of an earlier church, the Canton Cumberland Presbyterian Church.  The grave of Ann Smith, wife of Duncan C. Smith, the first Wilcox County Circuit Clerk, is the oldest in the cemetery and bears a date of 1823.  Mr. Smith gave the land to the cemetery several years after the death of his wife.   His descendants Percy and Ervin Smith donated the surrounding property for the present church in 1910.
This church is located beside Highway 28 at Canton, Bend, AL.  (GPS coordinates:  N32.056528,W87.350556).