Matthews-Tait-Rutherford Home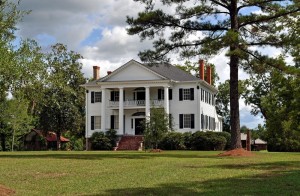 This historic antebellum home is one of the finest examples of neoclassical architecture in Alabama. It is located in Canton Bend a few miles west of Camden, and was built by a northerner, William T. Mathews who came to Camden by way of Haiti. Construction began in 1840 using a design by George Lynch, a local architect. It took five years to complete using both local and foreign artisans.
The home is now situated among large oak trees, but was originally surrounded by "Youpon" shrubs from which it derived its name. It features a large veranda supported by four fluted Doric columns and free hanging balcony with a crowfoot balustrade. Sliding interior doors and plantation windows make it possible to convert the entire first floor into a dance floor. The basic living quarters are located upstairs. And the most distinguishing feature about the home is the full basement, the only home of this era known to have this feature.
Some other information on the home excerpted from "Deep South" by Caldwell Delany published in 1942 is as follows:. "A special kiln was constructed to produce the thousands of bricks used in the basement. The main support timbers were hand hewn and planed under the supervision of the local architect. The fan-lighted front door opens into a hall 15 feet by 40 feet. Matching halls are located on the second floor and in the basement. On each side of the central hall are two rooms with those on the lower floor connected by large sliding doors. The dining room and drawing room are elaborately frescoed and corniced in plaster design."
The home and property were purchased by the Tait family around the turn of the century, and remained in this family until the Rutherfords purchased the home and 32 acres in the Fall of 1999. Time has not changed this home much over the years, although a tornado carried away the front steps and lower portico rail, and many of the oak trees in the late 1800's. A much earlier modification involved the basement. When it was no longer possible to keep a butler in the upper pantry, and the cook who replaced him became too old to climb the basement stairs, the basement kitchen with its two pantries, dumb waiter leading to the dining room above, wine room, and other storerooms had to be abandoned. The octagonal overseer's office which originally stood in the garden was moved to the rear of the house and served as a kitchen. A recent modification enclosed the back porch and attached the octagonal kitchen to the main structure.
Location of home: GPS Coordinates:  N32.033472,W87.368361.