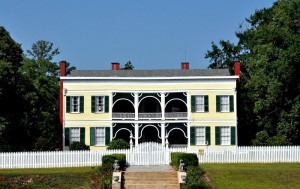 This beautiful antebellum home, located in the Furman community,  is built in a one-of-a-kind Steamboat Gothic style. The nearly 6,000 sq. ft. of living area consists of 12 rooms and 12 fireplaces, and unique porches on all sides. It was named "Wakefield" by the Gulley family which owned the home from its construction in the 1840′s until it was sold to Dr. E.G. Burson in 1943. John Gulley started construction around 1840 and depleted his financial resources by the time it was completed 7 years later. The construction cost was $12,000. John Gulley then sold the home to his brother Henry Gulley, who bequeathed it to his daughter Laura Gulley. She left it to her half sisters who sold to Dr. Elkanah G. Burson. The home is now owned by Sylvia Burson Rushing, granddaughter of Dr. Elkanah G. Burson, and her husband Tom Rushing. They are only the fourth family to own this home, which is featured in the historic book "Silent in the Land".
This home is included in the Furman Historic District that is listed on the National Register of Historic Places. It is located in Furman on CR 59 approximately 0.4 mile south of the intersection of CR 59 and Hwy 21 (GPS Coordinates: N31.998389,W86.962167)
This is a private residence – drive by only.