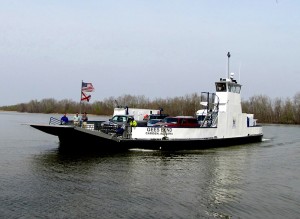 Have you ever had the urge to ride the river on a ferry?  The Gee's Bend Ferry in Wilcox County, AL, allows you the opportunity to do this.  The ferry crosses the Alabama River several times each day linking Gee's Bend and Camden.  The Gee's Bend Ferry makes it much easier for the residents of Gee's Bend to get to Camden, the county seat.  The ferry also allows tourists a thrilling alternative route for getting to Gee's Bend to explore the world of the Gee's Bend Quilters.
This ferry is operated by Whistleblowers Marine Services.  Visit their website at  http://www.geesbendferry.com for the ferry's schedule.
The ferry landing at Gee's Bend is located at GPS coordinates N32.055750,W87.303611 and the landing on the Camden side of the river is located at GPS coordinates N32.042778,W87.302194.