2012-2013 Big Buck Contest Winners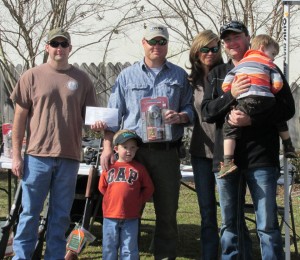 The 3rd Annual
Wilcox Area Chamber of Commerce Big Buck Contest
Awards Presentation was held Saturday, January 9, 2013 in downtown Camden.  Over $13,000 worth of cash and prizes were awarded to the ticket holding hunters who turned in the biggest bucks of the 2012-2013 deer season.
     A $500 gift certificate was given to the hunters who killed the biggest buck each month of the contest. October winner was James "Beaver" McIntosh with a bow killed buck that scored 123 4/8. November winner was Jimmy Henderson with the biggest buck of the year, 145 1/8. December winner Donald Harvey with a 128 5/8. The January big buck was killed by Jason Ledbetter, 138 4/8.
     The biggest doe, in a special 2 day Big Doe Contest December 29th & 30th, was killed by Jessica Hugley, 118 pounds. Jessica also won $500 gift certificate to spend at any of the contest sponsors locations.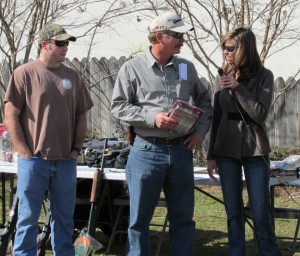 In the Adult division 5th place and a $250 gift certificate went to Dale McCarthy with a 133 2/8 buck killed in January. 4th and $500 went to Howard O'Neal, 135 7/8. 3rd place and $750 was Jason Ledbetter's 138 4/8. 2nd place Bo Swanner won $1000 gift certificate and a Plot Watcher Pro camera for his 141 3/8 deer. Jimmy Henderson was 1st place with a deer that scored 145 1/8. Jimmy's 1st place deer won him a 24 gun safe, 4 gal Bayou Classic Fryer, Plot watcher Pro camera, Cobia or deer hunt with Outfitter Brian Daniels and a free mount by Ledbetter Taxidermist. Jimmy's deer also was awarded $500 for being the biggest 8 point of the season and trophy & plaque to be displayed all year at Gees Bend Ferry Terminal as the Wilcox County Buck of the Year.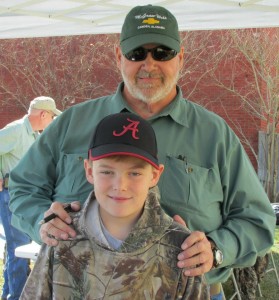 In the youth division of the contest, Jessica Hugley was 5th place and won a Ruger 10/22 rifle for her 122 2/8 deer. 4th place and a Remington 870 youth model 20 gauge and ground blind went to Wilder Hines for his 123 3/8 inch deer. A Remington Model 770 243 rifle with scope, Wildgame Camera, and a ground blind went to Aidan Thoinville for his 3rd place 126 6/8 inch deer killed in December. 2nd place went to William Averitt for his 127 5/8 inch buck. William took home a Savage 243 bolt action rifle with scope, Nikon 8×40 binoculars, Wildgame Camera & ground blind. the winner of the 2012/13 WACC Big Buck Contest Youth Division was Jim Lawler with his 139 7/8 inch 9 point. Jim took home a Henry Golden Boy 17 caliber rifle, Plot Watcher Pro camera, Kam Xtreme Video & Audio Eyeware, Hunter's Safety System Vest, and a free mount by Charlie Evans Taxidermist.
     Everyone who bought a ticket for this years contest was eligible for the drawing of a fully rigged PSE compound bow and a custom made and engraved turkey call by Billy Perryman Custom Calls. The winner of the PSE bow was Wesley Hatfield of Pensacola Florida. The Perryman Custom Call was won by Lane Jones of Camden.
     The event was broadcast live from site on WJDB 95.5 in a special edition of the Gettin' Outdoors Show with Big Daddy Lawler. A surprise appearance was made by Leigh & Travis Creekbaum of The Sportsman's Channel's Scentblocker's The Chase with Leigh and Travis to present the Plot Watcher Pro cameras to the winners. Day 6 Outdoors and Plotwatcher Pro is a primary sponsor for The Chase show.
     Josh Morgan, event director, thanks all the many sponsors for supporting this event and all the hunters who bought tickets. Josh said that the 2013/14 contest has already been started. The Wilcox Area Chamber of Commerce is, by far, the most aggressive Black Belt Chamber promoting outdoor events in their county. Crappie USA Tournament will be February 23rd out of Roland Cooper State park and The WACC Big Crappie Day & Derby will begin April 13th.
—–Submitted by "Big Daddy" Lawler.