Crappie Derby Update – Day 11 – April 23
Barbara Large of Saraland caught the 12th tagged crappie today while fishing off the bank at the Miller's Ferry  Campground.  The fish was worth $100.  This puts us a little closer to the 15th tagged fish that will be worth $750.
The $25,000 fish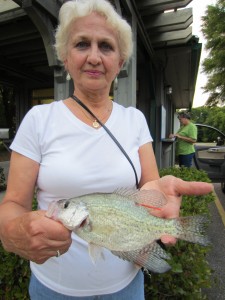 was caught on April 22nd by Joe Lister.  The other 4 big money fish remain in the lake including the $10,000 fish and three $5000 fish.
We remind you of the BBQ Cookoff on the downtown square in  Camden on Saturday, April 27th from 11am to 2pm.  Come out and sample some of the best BBQ around.