$5,000 Crappie Caught in Derby!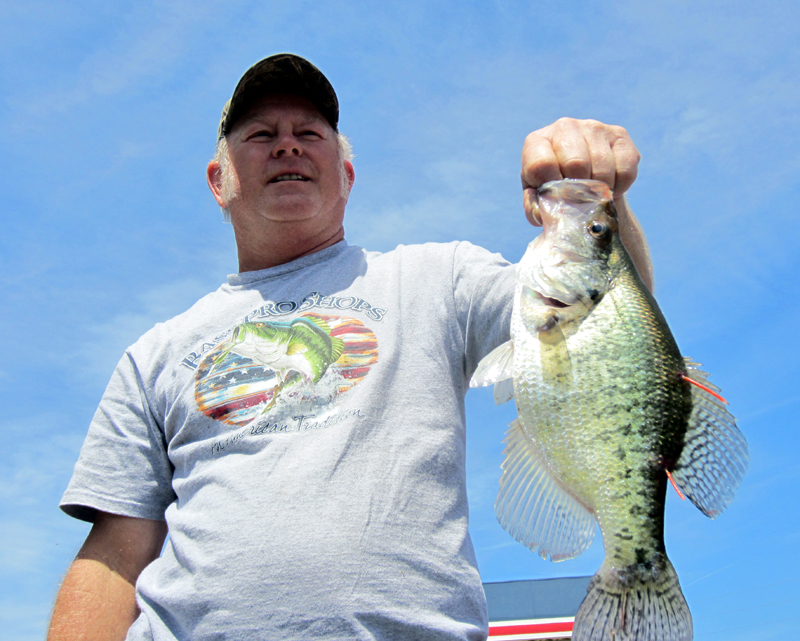 It was a  spectacular, cool and crisp late April morning as Calvett Pettis turned his boat into Foster's Creek and began throwing a Road Runner jig on the Ultra-Lite Zebco combo he had purchased just a few weeks prior at Loftin's Bait Shop in Camden.  Calvett had driven to Camden from his home in Brewton, leaving well before daybreak.  His first stop of the morning was at Loftin's Bait Shop where he purchased a Derby ticket and then headed for the lake.  
     He decided to call it a morning after catching just his second fish.  There is a good reason for that as this was no ordinary fish.  The two red tags hanging just below the dorsal fin meant this catch was worth a nice sum of money in the Wilcox Area Chamber Crappie Derby.   He quickly returned to the boat landing and to Loftin's Bait Shop where he described the fish to Shawn Reed, manager of the store.  Derby Director William Malone was summoned and upon arrival confirmed that Calvett had a $5,000 crappie!
       The Chamber congratulates Calvett Pettis! 
      (As of 2pm on April 16, the $10,000 fish and two $5,000 fish remain in the lake.   There have been 14 current year tagged fish caught by Derby participants.  The 15th catch will be worth $750 and the 20th is worth $1000.  All other current year tagged fish are worth $100 and prior year tagged fish are worth $50.  There have been 5 tagged fish caught by non participants for a loss of over $1150 for those choosing not to enter.)