Fancher Gator returns to Camden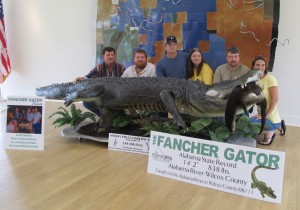 The Fancher Gator will be on display at The Wilcox Area Chamber of Commerce located in the Hollis Curl, Gees Bend Ferry Terminal in Camden Alabama;  beginning  on August 3rd and for most of the month of August. The Fancher Alligator is the Alabama State record alligator. It was taken in the first ever alligator season on the Alabama River in August 2011. Keith Fancher of Shelby Alabama and a team of 6 friends and relatives got the gator on the Alabama River near Fosters Creek in Wilcox County.
Ken Owens and Morris Lipham of Kens Wildlife Images, both award winning taxidermist, located in Atuagaville Alabama, mounted the record gator. The 14 foot 2 inch 838 pound gator is believed to be the largest mounted alligator in the Southeast.
The Fancher will be available for viewing Monday through Friday from the hours of 9:00 a.m. to 2:00 p.m.  Call 334-682-4929 for information.   The Ferry Terminal is located at 1001 Earl Hilliard Rd., just off of Highway 28 W .