Wilcox County is always the natural choice when looking for a quaint place to vacation, or if you want to relocate. With a low cost of living, a diverse landscape for housing, and true southern hospitality, Wilcox County is considered one of the most well kept secrets in Alabama! It is located in southwest Alabama, in the heart of Alabama's Black Belt. Camden, the county seat, had a population of 2,259 in 2000; the county's population was 13,183.
Camden, the County Seat
Camden is the commercial and governmental center for Wilcox County. All Wilcox County departments are here. Numerous federal agencies are also represented in Camden. The Alabama-Tombigbee Regional Commission also has its office in Camden. ATRC serves Wilcox and nine other surrounding counties by providing planning and advisory services to the municipal and county governments as well as proctoring services through Area Agency on Aging.
History
Wilcox County was named for Lieutenant Joseph M. Wilcox, an army officer from Connecticut who was killed in a battle with the Indians on the banks of the Alabama River in this region in 1814. One day older than the State of Alabama (Dec. 1, 1819), Wilcox County includes numerous examples of antebellum homes and buildings, most still in continuous use. Its towns are also historic. Camden was incorporated in 1842, after the county seat was moved from the banks of the Alabama River. Oak Hill was settled in the early 1800's. Pine Apple was founded in 1820. Pine Hill saw its first settlers in the early 1800's. Yellow Bluff is our newest town, incorporated in 1986. Read more about the history of the county  here.
Climate
Mean annual temperature is 63.3° F. In January it is 41.5° F., while July's temperature is 80.9° F. Average annual rainfall is 48.7 inches. Snowfall is rare. Camden is 230 ft. above seas level. Prevailing winds are southerly. The average growing season in the county is 239 days.
Education
Wilcox County has a countywide public school system, with schools in Camden, Pine Apple, and Pine Hill. Camden schools include a grade school (K-4 grades), middle school (5-9 grades), and a consolidated high school (10-12). The school in Pine Hill serves grades K-6, while Pine Hill's school serves grades K-9. There are also 2 private schools in the county, Wilcox Academy  and Camden Christian Academy, both are grades k-12.
Municipal Governments
The county has five incorporated communities, all with mayor-council form of governments. Communities include: Yellow Bluff, Camden, Millers Ferry, Pine Hill, and Pine Apple.
Fire Protection
There are 12 active volunteer fire departments throughout the county, with at least one in each community. All have modern equipment and maintain regular training sessions for their volunteers. They also respond to large fires, car accidents and other emergencies as requested.
Law Enforcement
Camden and Pine Hill have full time police departments. The county sheriff's department provides law enforcement for the other communitiesthroughout the entire county. The sheriff's office is located in downtown Camden, inside the Courthouse Annex. All of the law enforcement agencies have radio communication with each other, as well as the volunteer fire departments and the county emergency medical service.
Transportation
Camden is located at the junctions of Alabama Highways 10, 28, and 41. It is about 65 miles west of I-65 (north-south) and 100 miles south of I-59/20 (east-west), and about 100 miles north of I-10 (east-west).
Pine Hill is served by the Norfolk-Southern Railroad. Burlington-Northern Railroad also serves the western part of the county.
Medical Facilities
J. Paul Jones Hospital is a 26-bed hospital, staffed by 3 resident physicians. Emergency medical service is available throughout the county. There are two dental clinics in Camden and one in Pine Hill. Camden is also served by an optometrist, several home health agencies, rural health clinics, 2 doctors offices, and a physical therapy clinic. There is also a nursing home and dialysis center in Camden.
Airports
Wilcox County is served by two airports. The Camden Municipal Airport is a 4200 foot runway located 3 miles southwest of Camden. The Pine Hill Municipal Airport is a 4460 foot runway located 1 mile south of Pine Hill. Commercial air service is available in Montgomery, about 70 miles northeast.
Communications
Both Camden and Pine Hill have Cable TV access. TV stations in Montgomery, Selma, Demopolis, and Mobile may be received by individual antennas where Cable TV is not available. The county is served by two local internet service providers. High speed internet is available in many areas through either the phone or cable service. Companies providing internet and cable can be found in the member directory.
The Wilcox Progressive Era, a weekly newspaper, circulated on Wednesday, serves the entire county. It is centrally located in Camden. Daily delivery of newspapers from Montgomery, Mobile, and Selma is available.
WQLS (90.5 FM, "The Q") is an American non-commercial educational radio station licensed to serve the community of Camden, Alabama. It is locally owned and operated and plays a variety of music and informative educational shows. You can listen live by clicking here.
Parks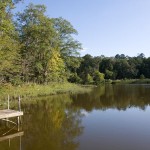 Roland Cooper State Park  is located on the Alabama River about 6 miles north of Camden. Its facilities include rental cabins, RV and camping facilities with utility hook-ups as well as a boat launch.
The Corps of Engineers operates numerous camping and boat launching facilities within minutes of Camden and the surrounding towns.
The City of Camden has one park which includes softball and baseball fields. It is located on Highway 221 next to the Airport. It also operates a boat launch and park on the Alabama River, known as Bridgeport Park and Landing, which is open, but undergoing renovations to expand parking and add more boat ramps. The County operates a boat launching facility on the river, about 9 miles west of Camden.
There is also Millers Park and Campground that includes a boat launch, beach area for swimming, playgrounds, and RV hook-ups.
Pine Hill has a park which includes a mile paved and lighted walking track, known as Pine Hill Depot Park, as it is home to an old train car and depot. Tennis courts are available in Camden, Oak Hill, Pine Apple, and Pine Hill.
Library
The Wilcox County Library is located in the Courthouse in Camden. It has about 33,000 volumes, plus audio and video tapes, and internet access. It is well known for its extensive genealogical records. As a public library it can provide access to books and other services from the state library, or other libraries as requested. The county library also has a branch in Pine Hill.
Outdoors
Wilcox County, Alabama, is likely best known for its numerous outdoor opportunities. The rural landscape boasts an impressive selection of game animals including whitetail deer, wild turkeys, feral hogs, squirrels, rabbits, ducks, doves, and geese. The county has more miles of riverfront than any other county in south Alabama.
Lake Dannelly, also known as Miller's Ferry Lake, on the Alabama River is recognized as one of the best bass fishing lakes in the state, boasting a higher catch rate than Lake Guntersville. It also boasts excellent crappie and catfishing waters. The lake is also attractive to pleasure boaters seeking relief from the high traffic of many of the southeast's crowded lakes. Please see the outdoors section of this site to learn more.
Birding
Wilcox County is home to four sites along the Black Belt Birding Trail, including Shell Creek & East Bank Parks, Roland Cooper State Park, Gee's Bend Park and Chilatchee Creek Park. We are in the process of adding 2 additional parks to the trail.
Hunting
Wilcox County is a hunter's paradise, The World Record Stokes Alligator was harvested in the Alabama River during the 2015 Alligator season. With all of the rural landscape you will be hard pressed to find anywhere in the southeast with better White Tail Deer, Turkey, Dove, or Quail Racoon, or Hog hunting. If you would like the chance to hunt in Wilcox County, we have several lodges that specialize in a variety of hunts.
For the latest in hunting and fishing news in Wilcox County; as well as helpful tips, check out:
Gettin' Outdoors With Big Daddy Lawler http://www.gettinoutdoorsradio.com
https://www.facebook.com/pages/Gettin-Outdoors-Radio-With-Big-Daddy-Lawler
Fishing and Hunting license
https://www.alabamainteractive.org/dcnr_license/
http://www.outdooralabama.com/licenses/